Plug-in Compact Signal Converter
Compact converters at low prices!
WSPF
Series
The most compact type of plug-in signal converter in Watanabe Electric Industry's signal converter line.We offer a low-cost, compact type with a socket to easily plug and unplug from the main unit for simpler maintenance.
The product line also includes isolators, distributors (current loop supply), thermocouple converters, RTD converters, and potentiometer converters.
WSPF Series Plug-in Compact Signal Converters

Feature 1

Wide-range
zero-span adjustment

±10%

10% zero span adjustment
by front trimmer
Easy-use design.
Feature 2

High adjustment
sensitivity

15-turn

15-turn zero-span adjustment trimmer.
Simple, frustration-free fine tuning.

Feature 3

Safe voltage
proof design

3kV

3kV withstand voltage.
Reliable, safe design.
Feature4

Extended warranty
period

Extended
5-year warranty

Our confidence in the WSPF Series
product lifespan enables us to offer a
long-term warranty.
Use confidently for years.

Feature 5

Power supply

Compatible with DC
30V power supply.

Use with DC 24 V batteries mounted in
vehicles with large voltage fluctuations.

*The product images are for illustration
purposes only, and may differ from the
actual design.

Long-term, stable supply

Our company's history as a specialized manufacturer of signal converters means that we take responsibility for the products and parts we provide, and do our utmost to meet your long-term needs.
Free adjustment on delivery

All our products are manufactured to order. We will adjust products to our customer's specifications upon delivery.
We also accept orders for special specifications. Consult us first.
All products made in-house,
in Japan

Every product we offer is designed and manufactured at our own plants.
That's how we meet short deadlines with high quality products through strict control of both manufacturing and inspection.
WSPF Series line-up

■ Isolators
Isolator
Isolator
2-output isolator
Model
WSPF-IS
WSPF-DS
WSPF-DSW
Reference accuracy
±0.1% fs (23°C)
Response time
Approx. 25 ms (0 to 90%)
Isolation
Mutually isolated between the input, output, and power supply terminals
Power supply voltage
AC 100 to 240 V ± 10%, DC 24 V ± 10%, DC 10.8 to 30 V, DC 110 V ± 10%
Insulation resistance
100 MΩ or higher (DC 500 V) (mutually isolated between the input, output, and power supply terminals)
Withstand voltage
AC 3000 V for 1 minute (between the power and input/output terminals), AC 2000 V for 1 minute (between the input and output terminals)
Recommended temperature and humidity range
- 5°C to + 55°C, 90% RH or less (no moisture condensation)
Dimensions (mm)
84 (H) × 23 (W) × 106.5 (D)
84 (H) × 29.5 (W) × 106.5 (D)
High-speed isolator 
2-output high-speed isolator
Model
WSPF-DE
WSPF-DEW
Reference accuracy
±0.1% fs (23°C)
Response time
Approx. 120 µs (0 to 90%)
Isolation
Mutually isolated between the input, output, and power supply terminals
Power supply voltage
AC 100 to 240 V ± 10%, DC 24 V ± 10%, DC 10.8 to 30 V, DC 110 V ± 10%
Insulation resistance
100 MΩ or higher (DC 500 V) (mutually isolated between the input, output, and power supply terminals)
Withstand voltage
AC 3000 V for 1 minute (between the power and input/output terminals), AC 2000 V for 1 minute (between the input and output terminals)
Recommended temperature and humidity range
- 5°C to + 55°C, 90% RH or less (no moisture condensation)
Dimensions (mm)
84 (H) × 23 (W) × 106.5 (D)
84 (H) × 29.5 (W) × 106.5 (D)
■ Distributor (Current Loop Supply)
Insulation distributor
2-output insulation distributor
Model
WSPF-DBZ
WSPF-DBZW
Input signal
DC 4 to 20 mA (transmitter signal)
Reference accuracy
± 0.1% fs (23°C)
Response time
Approx. 25 ms (0 to 90%)
Power supply for transmitter
DC 24 V ± 1 V, up to approx. 25 mA
DC30V ±1V,up to approx.25mA (only 1output type)
■ Thermocouple Converter
Thermocouple converter
2-output thermocouple converter
Model
WSPF-THS
WSPF-THW
Input signal
JIS compliant thermocouple
Reference accuracy
±0.2% fs(23℃)
Response time
Approx. 25 ms (0 to 90%)
Cold junction compensation accuracy
± 0.5°C or less (± 1°C or less for R and WR thermocouples)
Burnout
Upscale burnout
■ RTD converters
RTD converter
2-output RTD converter
Model
WSPF-RTS
WSPF-RTW
Input signal
Pt 100 Ω, 3-wire (span 50°C or higher)
JPt 100 Ω, 3-wire (span 50°C or higher)
Nickel 508.4 Ω at 0°C, 3-wire
Reference accuracy
±0.1% fs(23℃)
Response time
Approx. 25 ms (0 to 90%)
Burnout
Upscale burnout
■ Potentiometer Converters
Potentiometer converter
2-output potentiometer converter
Model
WSPF-MS
WSPF-MSW
Input signal
3-wire potentiometer
Reference accuracy
± 0.1% fs (23°C)
Response time
Approx. 25 ms (0 to 90%)
Burnout
Upscale burnout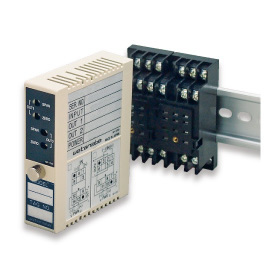 Complies with the CE Low Voltage Directive, EMC commands