HOME > Watanabe's Vision
Watanabe's Vision
> 4 competitive technologies and customer support > To be a genuine partner
> Total solution > experienced knowhow throughout our long history
As a professional company of measurement
and control products
4 competitive technologies and customer support
Watanabe have experienced knowhow as a professional of measurement and control instruments. We are supplying our products combining 4 completive own technologies, "Measurement technology" "Electronics technology" "Mechatronics techonology" and "Software technology which have acquired throughout our long history.To maximize customer satisfaction, we are always making an effort to develop new products and enhance our service quality.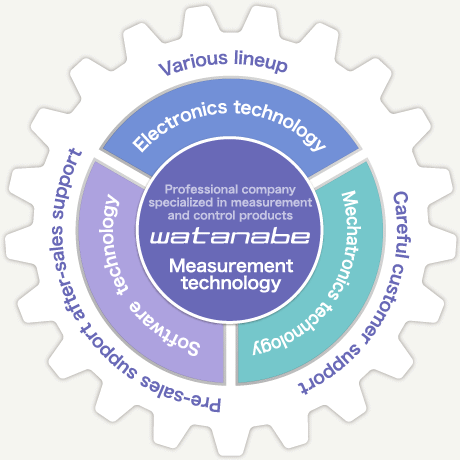 To be a genuine partner of
engineers and experts
Every engineer in the front lines has polished skills and experienced knowhow. Watanabe is making a useful offer to such mainstream professionals to solve their problems. To be a genuine partner of customers, we are always making an effort to improve our skills and acquire a lot of knowledge. Our stuff who have mastered electronics, information technology and energy management will help customers to solve their problems and build a long-term relationship with customers.

One stop supply to customers(meters,software,
accessories etc. whatever customer needs)
Because all hardware of our products are self-developed and manufactured at our factory, we can respond very quickly in case of product trouble. In addition, middleware and application software are also self-developed and Watanabe can offer not only set-up service but also troubleshooting support. Watanabe's strong point is to be able to offer total support for customers.

Since 1940, over 75 years
experienced knowhow throughout our long history
Since our establishment in 1940, Watanabe Electric Industry Co. Ltd. has consistently advanced as a professional manufacturer dedicated to measurement and control instruments. We have been developed new products which are useful for solving customer's problems and offered beneficial solutions for factories and buildings. With experienced knowhow throughout our history, we always pleased to serve for earning a customer's trust.

Installation

1,800

companies/in one year
Sales

150,000

units/in one year
Installation record over

7,000

companies