HOME > What's New > Products > Product discontinuation notice WDP/WSM/WDPT/WSMT
What's New
2014.06.01
Product discontinuation notice WDP/WSM/WDPT/WSMT
Thank you for using Watanabe Electric Industry's products.
We are sorry to inform you that following products have been discontinued.
We are sorry for the inconvenience caused.
We hope to the long term business and good cooperation in the future.
Discontinued model list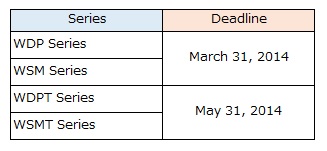 We apologize for the inconvenience, but please kindly contact us for the recommended replacement models.
---
●Inquiry ・ Tel +81-3-3400-6147
      mailto:support@watanabe-electric.co.jp
---